A Brooklyn teen was shot and killed by a stray bullet while being held in the blood-soaked arms of her older sister after two men in black opened fire on the street. Her outraged family was sent away on Thursday to mourn her senseless death.
Around 6:20 p.m., Shayma Roman, 17, was gathered with some friends outside an Eastern Parkway apartment complex close to Rochester Ave. in Crown Heights. When the armed pair approached them on Wednesday, witnesses told the Daily News that they fired at least five shots in their direction. The victim took two shots.
According to 21-year-old Sukie Thompson, a local, "she was outside lying on the stoop." "Her sister was sobbing while holding her. She had blood all over her. The entire building exited screaming and surrounded them.
Authorities said Roman, who was not the intended target, was hit by one bullet that went through her chest and another that went through her right arm. According to family members, she had just come outside to speak with her 19-year-old sibling Tayma when the shooting began, and the older girl witnessed the slaying.
"You kidnapped a child!"
," her stepfather Anthony explained. "You kidnapped a granddaughter!" You kidnapped my sister! …. She was sweet, loving, caring, and a little feisty. "Speak the truth."
According to family members, the slain teen's grandmother fainted after learning of the murder.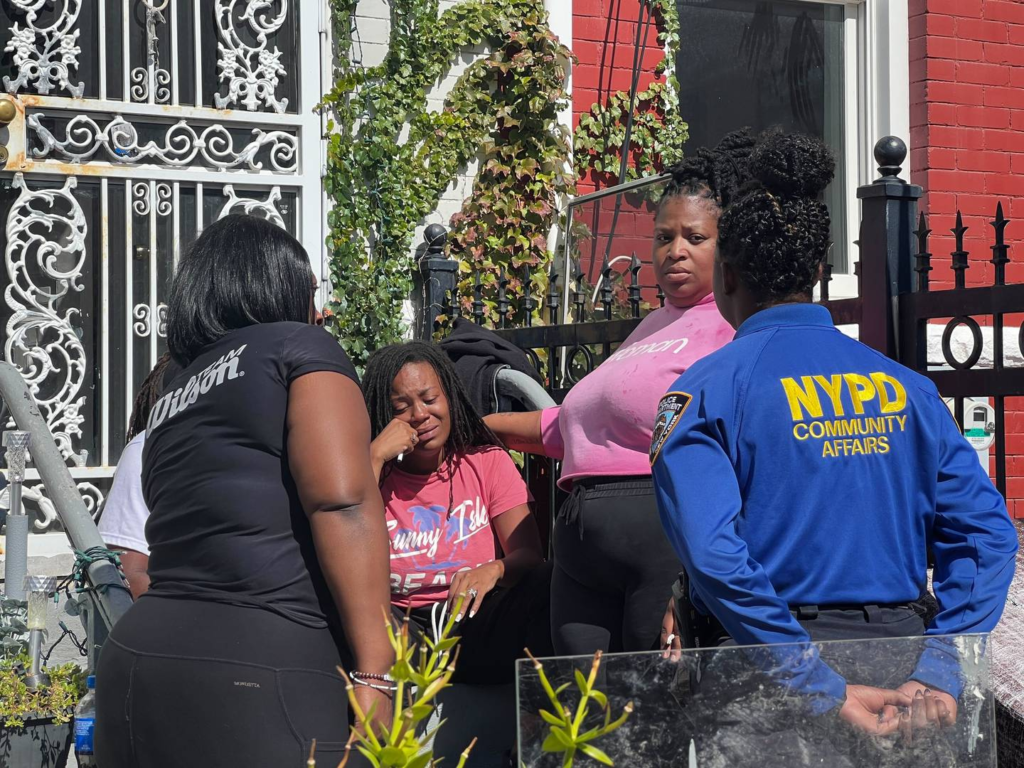 Shayma was discovered by police in a pool of blood outside the building's entrance, along with some empty Corona bottles and a pair of dice. The victim, who was a kind person who loved animals, passed away at Brookdale University Hospital.
Police reported that no arrests had been made and that it was currently unknown who the suspects' intended victims were when they fled north on Rochester Ave.
According to police, the first shots were fired from outside a nearby building by a suspect sporting a green-and-black sweatshirt and black pants. Then a second shooter, wearing a black jacket, pulled the trigger.
several 9-mm. On the sidewalk and a ramp leading up to the main entrance of the building, shell casings were discovered.
Shayma's older brother Shakem recalled, "I saw her 20 minutes earlier." "I saw them sitting right in front of the house as I was riding my bike up Eastern Parkway on my way home. When I get home and start watching TV, we receive a call saying that she was shot.
That's my little sister, he said. She turned 18 on October 30. The youngest is her.
The victim, who has no criminal history, was not believed to be the target, according to detectives and police.
One friend told The News that Shayma was "a good kid, not involved in anything," while her brother claimed that Shayma wasn't "in the streets, none of that."
The shooting occurred a day after eight separate shootings across the city left 16 people wounded, including two teenagers and four other victims at a Queens park.
Six homicides occurred in the 77th precinct, which includes Crown Heights, this year through Sunday, compared to nine during the same period last year. As of Sunday, there had been 26 shooting victims in the precinct, compared to 42 at the same time last year.
Murders in the city are down 12% this year, with 321 victims compared to 364 at this time last year. Shootings in the city are also down 12% this year, with 1,246 victims compared to 1,411 during the same period last year.