Some of the streets in the Ain Khaled area are being upgraded thanks to work started by the Public Works Authority (Ashghal).
The project is a part of the authority's Phase 1 road upgrade works in Doha City, which are intended to control traffic flow on major thoroughfares and create infrastructure services for the area's residents as well as a number of service, health, and educational facilities.
Eng. Mooza Al Sowaidi, Head of Doha City Section at the Roads Project Department at Ashghal, noted this occasion and stated that the project is a part of the authority's efforts to upgrade the internal roads network and its connection to the main road network, as well as improving the current facilities and developing the infrastructure to accommodate urban and social growth needs in the country, particularly as the Ain Khaled area is experiencing population growth and active traffic.
Waab Lebareg and Rawdat Al Thekhriya streets, which serve numerous residential units and service and educational facilities like Um Al Seneem Park, Um Al Seneem Health Centre, and Qatar Science and Technology School, will be upgraded as part of the upgrading works, according to Eng. Mooza Al Sowaidi.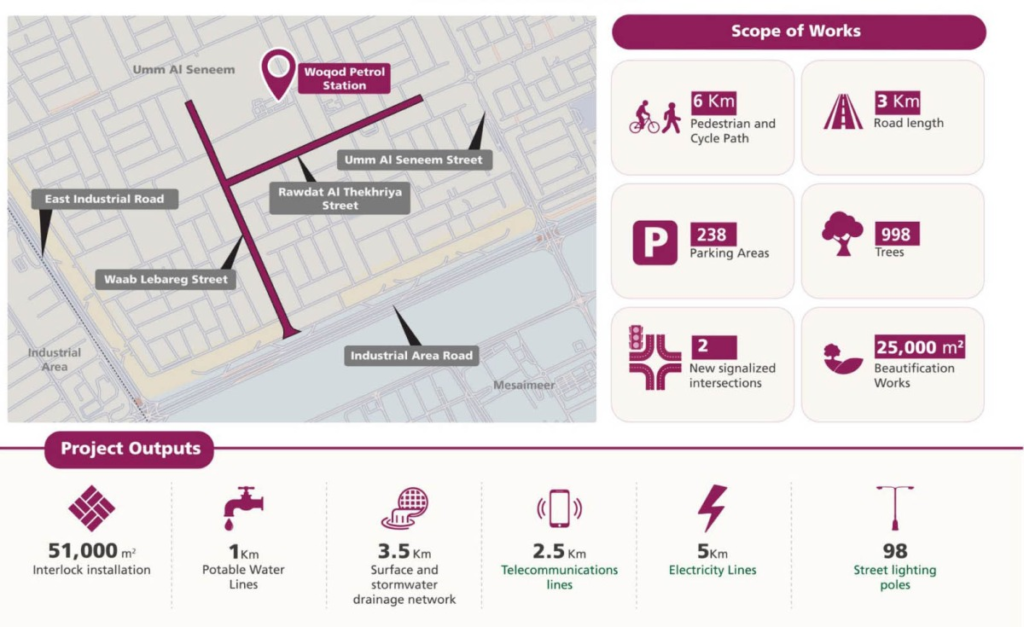 In Q4 2024, the project is anticipated to be finished.
Three kilometers of two-way roads, two signalized interchanges, six kilometers of bike and pedestrian paths, and 238 parking spaces are among the projects currently under construction. In addition, 51,000 square meters of interlock installation work will be done, as well as 25,000 square meters of beautification work and the planting of 998 trees.
Aside from upgrading the existing surface water drainage system and building 3.5 km of new pipelines, the project's infrastructure work also entails protecting 5 km of electricity lines, upgrading the street lighting systems by extending lighting cables along 8.5 km and installing 98 lighting poles, and installing 2.5 km of communication network lines. In collaboration with the General Directorate of Traffic, Ashghal has carried out a plan to coordinate traffic flow and implement traffic diversion measures during the project's duration.