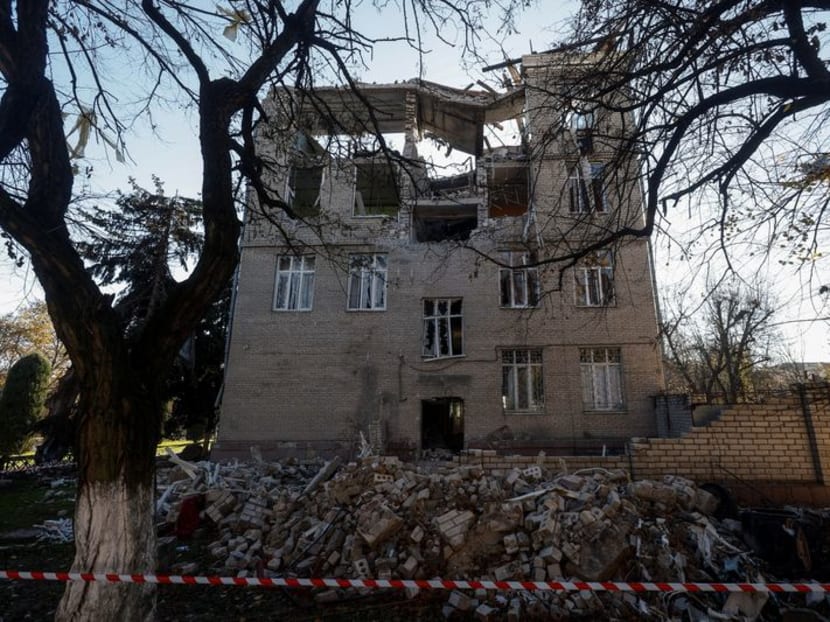 Residents in Kherson describe detention, torture, and death.
The Russian occupation ended on Friday after nine months.
Suspected resistance fighters were among those detained.
Russia denies torturing detainees.
According to UN officials, both sides have abused prisoners of war.
Residents of Kherson, a city in southern Ukraine, refer to the two-story police station as "The Hole." Pensioner Vitalii Serdiuk claimed that he was fortunate to be alive today.
The retired medical equipment repairman described his ordeal in Russian detention as "I hung on" as he spoke two blocks from the tiny Soviet-era apartment he and his wife share.
According to more than a dozen residents of the recently retaken city, the green-roofed police building at No. 3, Energy Workers' Street, was the most infamous of several locations where people were allegedly interrogated and tortured during Russia's nine-month occupation. There was also a sizable prison.
Two residents of an apartment building overlooking the police station courtyard said they saw bodies wrapped in white sheets being carried from the building, stored in a garage, and then thrown into refuse trucks to be removed.
Reuters was unable to independently confirm all of the events described by Kherson residents.
The Kremlin and Russia's defense ministry did not respond immediately to questions about Serdiuk's account or the accounts of others interviewed by Reuters in Kherson.
Moscow has denied allegations of abuse against civilians and soldiers, accusing Ukraine of staging such abuses in locations such as Bucha.
The United Nations Human Rights Office said on Tuesday that it had discovered evidence that both sides had tortured prisoners of war, which the International Criminal Court considers a war crime. A U.N. official described Russian abuse as "fairly systematic."
As Russian security forces withdraw from large swaths of territory in the north, east, and south, evidence of human rights violations mounts.
People detained in Kherson included those who spoke out against Russia's occupation, residents like Serdiuk who were thought to have information about enemy soldiers' positions, and suspected underground resistance fighters and their associates.
Serdiuk claimed he was beaten with a truncheon on his legs, back, and torso and shocked with electrodes wired to his scrotum by a Russian official who demanded to know the whereabouts and unit of his son, a Ukrainian army soldier.
"I didn't say anything; my only response was 'I don't know,'" the 65-year-old said in his apartment, which was lit by a single candle.
'Remember! Remember! Remember! ' was the unending response."
Pure Sadism
Following the unbridled joy and relief of Ukrainian soldiers retaking Kherson on Friday after Russian troops withdrew across the Dnipro River, grim recollections of life under occupation have emerged.
Two days later, President Volodymyr Zelenskiy announced that investigators had discovered more than 400 Russian war crimes and the bodies of both servicemen and civilians in areas of Kherson region liberated from Russian occupation.
"I personally saw five bodies taken out," Oleh, 20, who lives in an apartment building overlooking the police station and declined to give his last name, said. "We saw hands hanging from the sheets and assumed they were corpses."
Svytlana Bestanik, 41, who lives in the same block and works at a small store between the building and the station, also remembered seeing prisoners carrying out bodies.
"They would carry dead people out and throw them in a garbage truck," she explained, describing the stench of decomposing bodies in the air. "We were witnessing sadism at its most blatant."
Reuters journalists were barred from going beyond the courtyard, which was surrounded by a razor wire-topped wall, by armed police officers and a soldier who said investigators were inside collecting evidence.
According to Serdiuk, up to 12 detainees were kept in tiny cages, according to one officer who declined to give his name.
Neighbors said they heard screams of men and women coming from the station and that when the Russians emerged, they wore balaclavas that covered everything except their eyes.
"They came in every day," Bestanik said. "I made the decision not to speak with them. I was terrified of them."
According to Aliona Lapchuk, she and her eldest son fled Kherson in April after a terrifying ordeal at the hands of Russian security personnel on March 27, the last time she saw her husband Vitaliy.
According to Lapchuk, Vitaliy had been an underground resistance fighter since Russian troops seized Kherson on March 2, and she became concerned when he did not return her phone calls.
Soon after, three cars with the Russian "Z" sign painted on them arrived at her mother's house, where they were staying, she said. They brought Vitaliy, who had been severely beaten.
When she tried to reprimand the soldiers, who identified themselves as Russian troops, they threatened to smash out her teeth. She claimed that they confiscated their cellphones and laptops before discovering weapons in the basement.
They brutally beat her husband in the basement before dragging him out.
"He was dragged out of the basement, not walked out. They smashed through his cheekbone "Sobbing, she said in the village of Krasne, about 100 kilometers (60 miles) west of Kherson.
She claimed that Lapchuk and her oldest son, Andriy, were hooded and taken to the Kherson police station at 4 Lutheran Street where she could hear her husband being questioned through a wall. She and Andriy were eventually released.
Lapchuk wrote to everyone she could think of after leaving Kherson in an attempt to find her husband.
On June 9, she said she received a message from a pathologist instructing her to call the following day. She knew Vitaliy was no longer alive.
His body was discovered floating in a river, she explained, displaying photographs taken by a pathologist that revealed a birth mark on his shoulder.
Lapchuk stated that she paid for Vitaliy's burial but has yet to visit the grave.
She believes her husband was betrayed by someone close to the Russians.
The Hole
Ruslan, 52, who owns a beer shop across the street from the police station where Serdiuk was detained, said that at the start of the occupation, Russian-made Ural trucks would pull up daily in front of the grey front door.
He claimed that detainees would be thrown from the back, their hands bound and their heads covered by bags.
"This place was known as 'Yama' (The Hole)," he explained.
Serhii Polako, a 48-year-old trader who lives across the street from the station, agreed with Ruslan.
He claimed that several weeks into the occupation, Russian national guard troops stationed at the site were replaced by men driving vehicles with the letter "V," which prompted the screams.
"If hell exists on Earth, it was there," he said.
He claims that the Russians freed those being held in the station about two weeks ago in apparent preparation for their departure.
"They suddenly emptied the place, and we realized something was wrong," he told Reuters.
Serdiuk believes he was betrayed as the father of a Ukrainian serviceman by an informant.
He stated Handcuffs were placed on him, a bag was placed over his head, he was forced to bend at the waist, and he was frog-marched into a vehicle.
He was placed in a cell at the station that was so small that the occupants couldn't move while lying down. On some days, prisoners were only given one meal.
He was hooded, his hands bound, and led down to a cellar room the next day. According to him, the interrogation and torture lasted about 90 minutes.
His Russian interrogator knew all of his personal information and that of his family, and he threatened to arrest his wife and call his son so he could hear both of them screaming under torture, according to Serdiuk.
He was released without explanation two days later. His wife discovered him outside the shop where Bestanik works, practically unable to walk.
Related posts