An 18-year-old Kenyan amateur footballer wants Cristiano Ronaldo, Lionel Messi, and Neymar to put the ball down for a moment and pick up a shovel to help fight deforestation.
Lesein Mutunkei plants 11 trees after scoring a goal, one for each player on his team. He's tackling the nation's daily loss of an estimated 50 football fields' worth of forest area.
He is fighting against the nation's estimated daily loss of 50 football fields' worth of forestland.

He is addressing the country's daily loss of an estimated 50 football fields of forest area.
"Climate change is a universal problem, and football is a universal game," Mutunkei said. "[It] has the potential to connect, engage, educate, and inspire my generation to work toward a more secure and environmentally friendly future."
Deforestation is the clearing of forests and trees for agricultural purposes or to harvest resources such as timber. It contributes to global warming while also harming wildlife habitats. According to the Kenya Forest Service, Kenya's forest cover was only 6% in 2018.
That same year, Mutunkei founded Trees4Goals to encourage young athletes in his region to join him in planting trees every time they score. Now he wants FIFA to use its billion-plus audience to spread his message around the world.
A FIFA representative recently told CNN that "this and other similar projects led by young people and climate defenders around the world are not only commendable but also necessary."
Mutunkei and his team compete in a football game at a school.
Mutunkei stated that he has sent FIFA emails and social media messages, and while he has not received a direct response, some big names in the football world have already acknowledged his efforts. Arsenal Football Club sent him an autographed jersey after learning about him in an environmental docuseries.
These accolades move Mutunkei closer to his ideal world, in which football teams measure their success by the size of the forests they've planted, rather than the number of trophies on their shelves.
A tree, unlike a trophy, grows alongside you, Mutunkei explained.
Mutunkei began his environmental activism when he was five years old. His family planted trees to commemorate special occasions. "I was probably about the size of a seedling," he added.
This helped him associate tree growth with celebration. Mutunkei was inspired to turn his family tradition into a movement by the late Kenyan Nobel Peace Prize winner Wangari Maathai. In 1977, Maathai founded the Green Belt Movement, which has since helped Kenyan communities plant over 51 million trees.
Mutunkei recalls Maathai telling him a story about a hummingbird attempting to put out a forest fire while all of the other animals fled in terror. For him, the lesson is that "however small you think it may be, it does make a difference."
That's where the idea to combine football and environmental activism came from. He began by planting one sapling for each goal. Trees4Goals has now planted over 5,500 indigenous trees in forests, schools, and football club training grounds.
Mutunkei begins his Trees4Goals workshops by teaching about the dangers of deforestation. He begins with a football game and concludes with a tree-planting session. "Everyone enjoys getting their hands dirty," he added.
He led a group of 22 football players to plant 700 trees in Nairobi's Karura forest. Despite the fact that the majority of the team had no prior experience, they completed the task in under an hour. "Planting the trees was almost a race," Mutunkei said.
Kenya's forest cover has increased to nearly 9% as a result of nationwide reforestation efforts in recent years. Despite this, rising demand for timber and charcoal to fuel infrastructure, as well as population growth, continue to contribute to unsustainable forest harvesting. Despite relying on less biomass energy than neighboring Tanzania and Uganda, fuelwood still accounts for roughly 70% of Kenya's energy needs.
While it is still awaiting FIFA support, Trees4Goals has piqued the interest of Kenya's Ministry of Environment and Forestry. Mutunkei claims that in exchange for advice on how to engage young people in conservation, the ministry gave him saplings and now works with him on a regular basis to decide where to plant them.
They select forest areas with a lower tree canopy coverage. While individual trees benefit the environment, planting them as a forest has greater global benefits, according to Mutunkei.
Giving young people the opportunity to participate in conservation is the most important aspect of engaging them. Mutunkei claims that the passion comes naturally.
His classmates have begun to incorporate Trees4Goals into their respective sports, such as basketball and tennis. "Seeing that they're taking that responsibility because of the project I started is the biggest accomplishment for me," he added.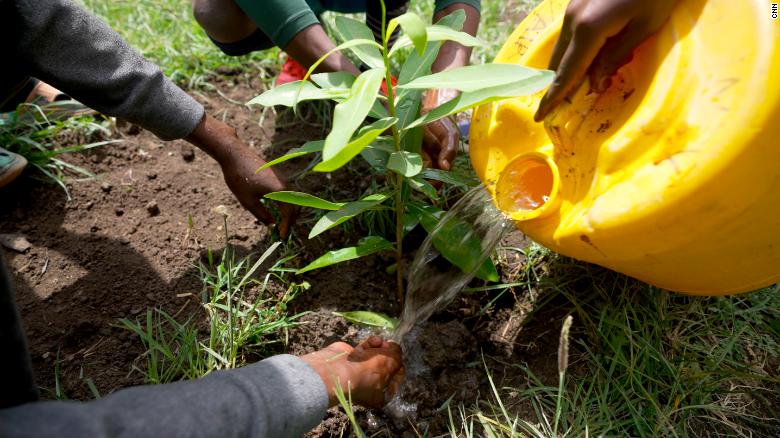 Mutunkei receives messages from young athletes all over the world who say they read his story and decided to take on the Trees4Goals challenge. It taught him that young people do not need to rely on leaders to make a difference.

"Whether it's reducing your use of plastic, planting that tree, or simply using your passion to raise awareness about the issue — start now, take action now, and speak out now," he said.