The German language war film All Quiet on the Western Front took home seven awards at the Baftas on Sunday night, breaking the previous mark for the most wins by a non-English language film.
With four victories each, The Banshees of Inisherin and Elvis also had success at the competition, which was held for the first time at London's Royal Festival Hall.
Here are eight highlights from the ceremony and backstage that you might have missed, even though you may already be aware of who won what.
1. Richard E Grant is the next Batman
Actually, not quite. On the recommendation of none other than Hollywood icon Steve Martin, he did, however, drive up in the Batmobile to the venue on the Thames. Grant, however, decided to disregard the veteran actor's other piece of advice to avoid wearing white.
Grant actually wore a lot of white. He added a dramatic white floor-length cape in the style of Dracula to his white tux jacket because he wasn't content with wearing it alone. Unfortunately, it was abandoned far too quickly for our tastes, but it was entertaining while it lasted.
Grant had vowed not to criticize any other actors before the event, and he kept his word—despite making a reference to the infamous Oscars ceremony from the previous year.
"On my watch, no one gets slapped tonight, aside from on the back."
2. Where was Alison Hammond?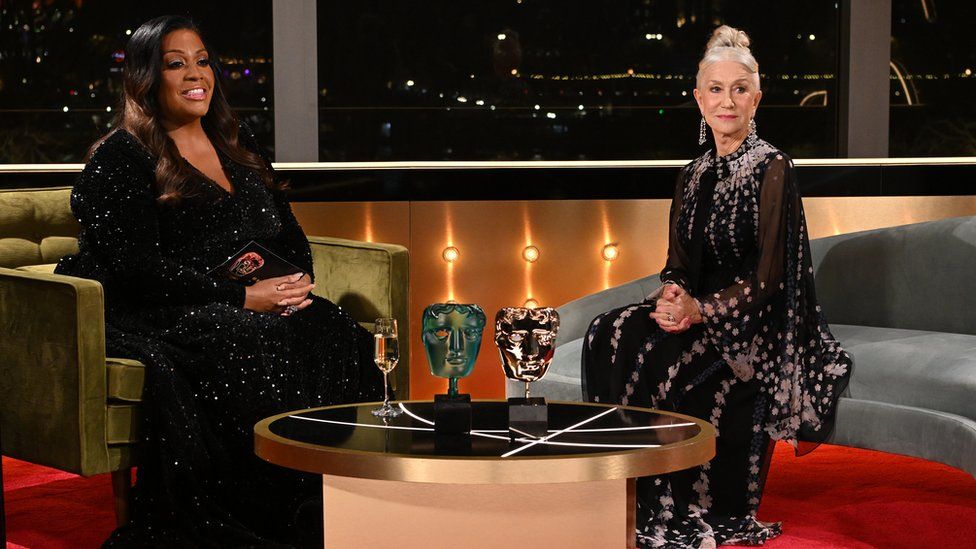 As this year's co-hosts, they did make a cute couple when they occasionally appeared together throughout the evening, contrary to the expectations of some viewers on social media who thought they would see more of the star alongside Grant.
But the ITV host was always going to host a behind-the-scenes segment on some luxurious couches off-camera (which looked like a slightly more glamorous version of the This Morning set).
Unfortunately, Alison was unsuccessful in convincing Dame Helen Mirren to join her for a party later despite her best efforts. "My alarm goes off at six in the morning. I need to travel to Berlin "The actor spoke up. The wicked cannot rest.
3. Ariana DeBose gave a sisterly shout-out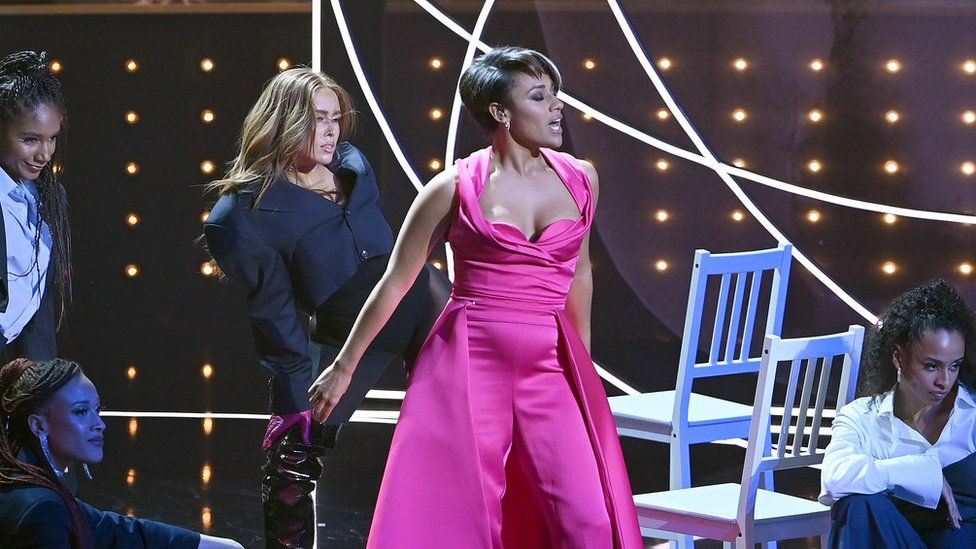 Ariana DeBose, who won best supporting actress last year for West Side Story, performed a medley that included Sisters Are Doin' It For Themselves and included a rap section that mentioned several of the female nominees for the evening.
Cool or repulsive? Your choice. Danielle Deadwyler and Kerry Condon both seemed a little perplexed, while Jamie Lee Curtis and Emma Thompson appeared to be having a lot of fun.
4. Kerry Condon couldn't wait to get back to her seat
When Kerry Condon learned she had won this year's award for best supporting actress (for Banshees of Inisherin), she admitted backstage that she had a "blackout, weird moment" (there was an unfortunate incident when Troy Kotsur's interpreter accidentally announced Carey Mulligan as the winner before it was quickly corrected).
While being questioned by reporters, Condon noticed a live TV feed in the press area and observed writer and director Martin McDonagh for the film Banshees walk up to the podium to accept the prize for best original screenplay. "Oh, leave now! It's lacking for me. Be quick! Should we give it a brief listen?" Be our guest.
Fortunately, McDonagh honored her (otherwise, it might have been a tad awkward).
He characterized her as "the incredible Kerry Condon, with whom I had my first collaboration on a play at the RSC 21 years prior. Despite the fact that more than 12 people saw this, she was just as amazing there as she is here."
5. Barry Keoghan picked the wrong colour
Barry Keoghan, Condon's co-star, expressed similar joy after winning best supporting actor.
"It promotes the arts at home; storytelling is a way of life here. The domestic industry benefits greatly from it. I mean, 14 of the Irish nominees for the Academy Awards are wearing red, and I. I ought to have wore green!"
Despite the fact that he almost left it in the press room and had to run back for it, he intends to display his Bafta above the portrait of his late mother.
6. Pinocchio has run away again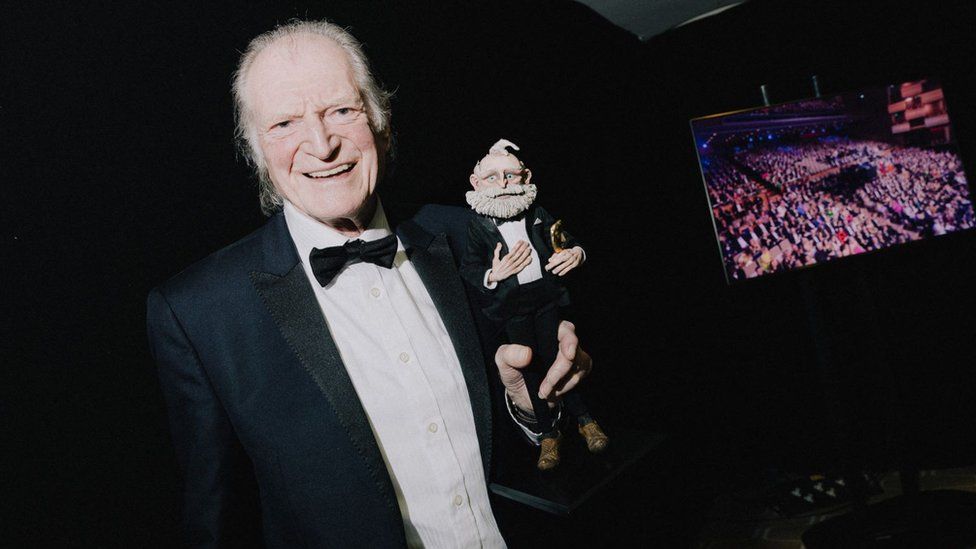 With his dark take on the beloved children's story Pinocchio, Guillermo del Toro won the award for best animation.
Are you carrying Pinocchio, someone asks backstage. "Yes, but he's drinking somewhere," I said.
Although the well-known puppet may have vanished, Geppetto's voice actor David Bradley always had a puppet of his character with him. A special plus one.
And he's even carrying a tiny Bafta of his own!
7. Austin Butler gives a nod to the Irish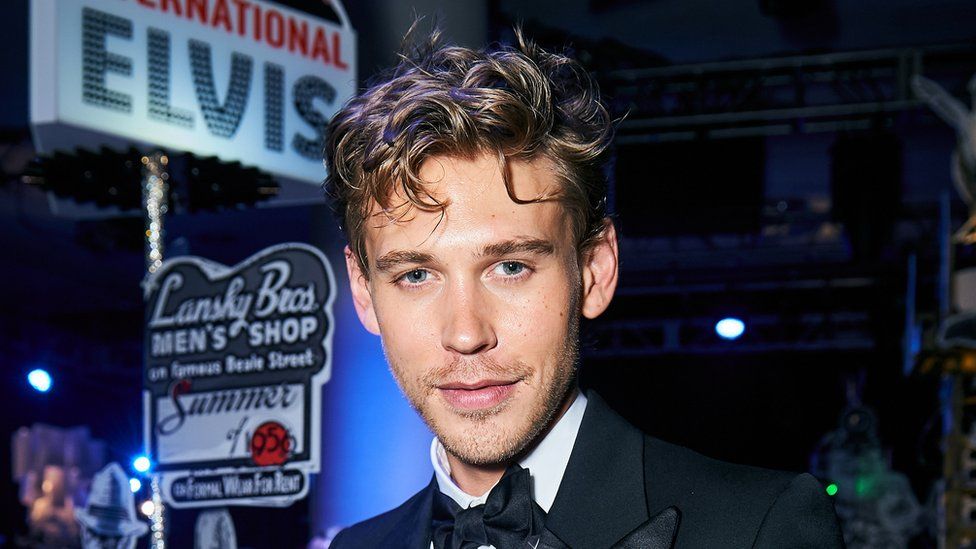 Many people expected Colin Farrell to win his first Bafta for The Banshees of Inisherin, so the fact that Elvis Presley won best actor came as a bit of a surprise.
But by confessing that "someone told me the other day they thought I was Irish," he managed to win back Ireland's favor. (However, to us, he still sounds a lot like Elvis.)
Does Butler have an Irish last name? Sorry, but we believe it to be Norman French.
Elvis was questioned about whether or not he felt any Irish connection while filming after learning that he may have had some Irish ties. He deadpanned, "Yeah, it was all I thought about."
8. Navalny filmmakers vow to keep name in spotlight
The best documentary award went to Navalny, a movie about the assassination of Kremlin critic Alexei Navalny. His absence, along with that of investigative journalist Christo Grozev, who was unable to attend the ceremony due to "a public security risk," was lamented by the creators.
The message to the Kremlin is to immediately release Navalny and all political prisoners and put an end to the war (in Ukraine), according to activist and journalist Maria Pevchikh.
"Before Navalny entered prison, I made him a promise that I would use the time he was incarcerated to climb the tallest mountain, shout his name aloud, and ensure that people never forgot what he had done for my country. The stage tonight has been, in my opinion, a fairly tall mountain.