The live music and events industry has been a high-profile casualty of the coronavirus crisis.
We all miss the collective, communal excitement of the gigs and festivals banned under current restrictions.
But what about those who work behind the scenes?
The future looks highly uncertain for sound engineers, lighting designers, riggers, backline techs and others who help to bring live events to life.
Approximately 7,500 people work in Northern Ireland's live events industry and most have been without employment since the pandemic struck last March.
Despite the arrival of vaccines and rapid-turnaround tests, there are still uncertainties about when they can return to their jobs.
Last Tuesday, a parliamentary inquiry heard that the majority of UK festivals, a crucial source of income for technical crews, may be forced to cancel events for a second summer.
MPs have since written to the chancellor, asking him to launch a Covid-19 insurance scheme to protect live events.
More than 90% of gigs planned for 2020 were cancelled.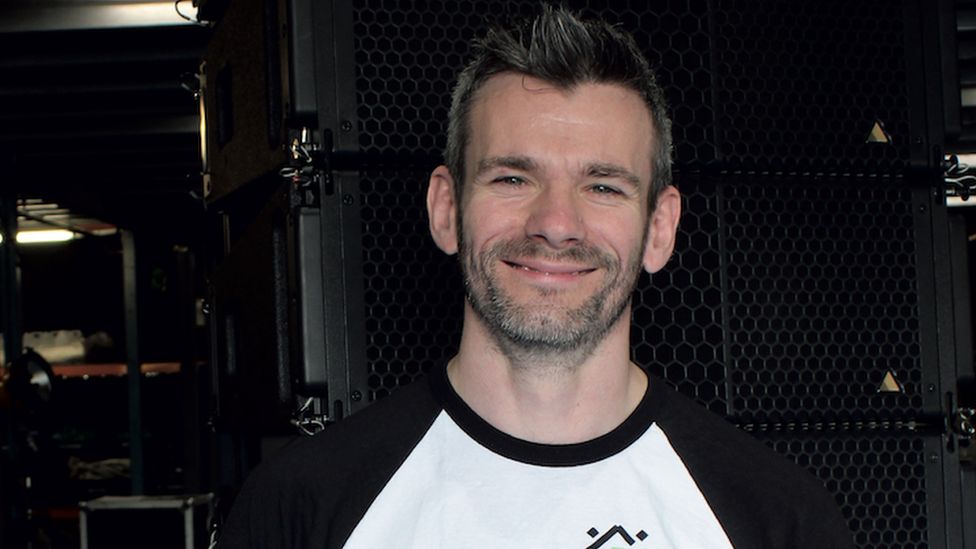 According to Sean Pagel, his part of the industry is "professionally invisible – nobody sees the people backstage in black T-shirts".
"This is playing to our detriment at the moment because people don't realise how many of us are in trouble right now."
Mr Pagel, who is the production tour rigger for Liam Gallagher and runs a stage lighting hire company in Mallusk, is a core member of We Make Events NI, a team of industry professionals working to raise public awareness on the value of the touring, festival and theatrical events industries.
The campaign has been backed by local artists, including comedian Colin Geddis and Snow Patrol's Gary Lightbody.
"If you've ever gone to see a show in the SSE Arena on a Tuesday night, that morning there was nothing in the room at all," Mr Pagel said.
"All of that enormous spectacle that people are looking at – the lights, the sound, the stage, the video walls – has been built in a matter of hours and it's gone in a matter of hours after the event.
"Take away the people who have trained for years to do that and there won't be any more live events- we'll be stuck with live streams and recordings from here on in."
When contacted by BBC News NI, the Department for the Economy and the Department for Communities pointed to a number of schemes that are available to support businesses and individuals since the start of the pandemic, including the Newly Self-Employed Support Scheme and the Culture, Languages, Arts and Heritage Programmes.
A Department for Communities spokesperson said its minister, Deirdre Hargey, will "continue to highlight the need for additional support with her executive colleagues".
But Mr Pagel believes the government assistance offered to events workers, more than 70% of whom are self-employed, is not enough.
Mental health issues
He said the uncertainty surrounding the future of the sector is having a devastating effect on people's wellbeing.
"Our industry has a kickback value of more than half of agriculture and fishing combined and yet people don't know we exist," he said.
"That feeling of complete rejection, isolation, total ignorance of our existence and dismissal of our problem is causing massive mental health issues.
"It isn't fair and these people can't be left on their own."
Rebecca Nicell is a trainee lighting and audio technician from Londonderry who had only just embarked on her career when lockdown measures were introduced.
She has not worked in the live industry since March and has been forced to seek other employment.
"We have no idea when things are going to get back to normal," she said.
"I don't know if there's going to be employment for me when things do finally open."
Before the coronavirus crisis there was no shortage of work for technicians like Ms Nicell, but she said the current uncertainty is driving people away from the trade.
'Retrain? It's a joke'
"We've lost so many people from the industry," she said.
"People with families to provide for and young people who don't have the confidence to stay, which is fair enough – there's no security there and I'm not sure if there will be again."
She dismissed any suggestion that people in her profession should simply retrain.
"These are highly-trained, highly-skilled people and to tell them to retrain is just a joke," she said.
"We've worked too hard and what we can do when we get together is amazing."
Cahir O'Doherty, from Derry, has experience of the industry both on and off-stage, having playing in a string of Northern Ireland-based groups including Fighting With Wire, Jetplane Landing and current outfit New Pagans.
For nearly a decade, he has also worked as a guitar technician and tour manager for singer-songwriter Frank Turner.
They abandoned a tour and returned home when the pandemic struck.
Mr O'Doherty had a year of shows booked stretching into 2021 but has not been on the road since.
The subsequent loss of income forced him and his young family to leave their home and move in with his wife's parents.
"It's been tough," he said. "I'm just very lucky I have such supportive parents and in-laws."
He has managed to make ends meet through online tutoring and government grants afforded to some people in the music industry.
"It's a short-term fix for a long-term nightmare," he said, adding "that money only lasts so long".
He is optimistic the live entertainment industry will bounce back from the crisis, but said: "It's going to be longer and harder than other industries because no one is going to want to take that risk.
"Live shows were one of the first sectors to close, we'll be one of the last to open – that's the nightmare that we're in."