Oliseh and "Sir" Arsene Wenger will make a lethal duo that will represent Nigeria at the Qatar FIFA World Cup in 2022.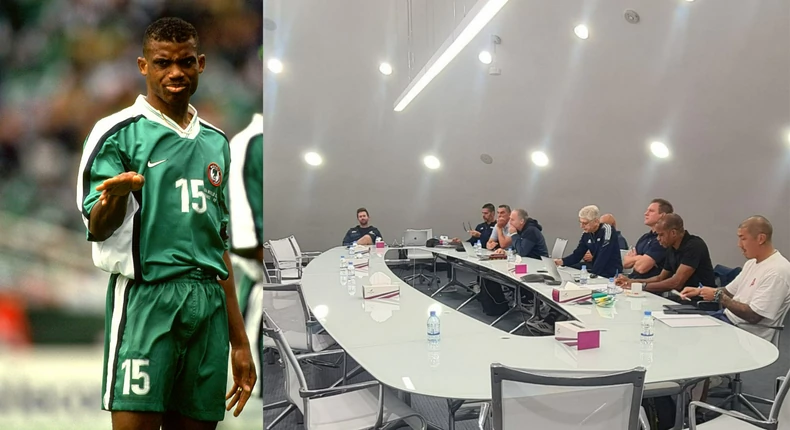 Sunday Oliseh, a former captain and coach for the Super Eagles of Nigeria, will take part in the Qatar 2022 FIFA World Cup.
In August 2022, 48-year-old Oliseh resigned as the SV 19 Straelen head coach of Germany's second-tier league.
In his playing days, Oliseh was a midfield enforcer. He now holds a position with FIFA, the world football governing body.
Oliseh is one of the experts chosen for the Qatar 2022 FIFA World Cup, despite the Super Eagles of Nigeria's failure to qualify.
Wenger and Oliseh
The former Borussia Dortmund midfielder has accepted the position of Technical expert for the world's largest football competition.
Following his departure from SV 19 Straelen, Oliseh, who is enthusiastic about his new position, posted an update on social media.
Oliseh claims that he will collaborate with former Arsenal manager Arsene Wenger as an expert.
Before the competition began, Oliseh posted pictures of the technical specialists working alongside Wenger.
Oliseh used the honorific "Sir" to refer to the lauded manager as Wenger.
"Extremely honored to have been appointed by FIFA as a Technical Expert for the FIFA World Cup in Qatar," read the message Oliseh included with the photos.
In the exclusive company of "Sir" Arsene Wenger, Jurgen Klinsmann, and three other people. The workday began last night. Qatar 2022 appears excellent and prepared.
The 2022 FIFA World Cup, which will take place in Qatar from November 20 through December 18, is anticipated to feature a significant role for Oliseh.