'Sarina, you're the one' wasn't far behind if Sweet Caroline provided the soundtrack for last summer.
The dressing room was rocked by the Atomic Kitten tribute to manager Sarina Wiegman following England's historic victory in the European Championship final.
When England and Germany last faced off in a major women's tournament final, 13 years prior, the post-match reaction was very different.
The team, led at the time by manager Hope Powell, lost 6-2, and they were left playing only occasionally.
However, a longer-term evolution was developing amidst the immediate disappointment.
This is the tale of the winning mindset that propelled the Lionesses to success in 2022, starting with Powell's choice to hire the first psychologist ever employed by an England national team.
"Wanting to win doesn't help you win."
The straightforward but illuminating words of Kate Hays. The head of women's psychology for the Football Association explains the reasoning behind an attitude that is crucial to the Lionesses team, who have swept all before them in the past year.
Since being hired in October 2021, Wiegman and Hays' coaching staff have cultivated what Hays refers to as a "how to win" culture within the England team.
The philosophy is rooted in a shared purpose, a thorough understanding of the players' characters, including what motivates them and how they react to stressful situations, and defined measures of success. It is incorporated into everything from pre-match preparations to the style of play.
"In sport everybody wants to win; that's the dream," says Hays.
However, having a solid plan for success and having real clarity about what to do and how to conduct business will help you win.
Hays' strategy is influenced by successful strategies from other sports. She spoke with coaches and performance directors from various Olympic and Paralympic teams during a seven-and-a-half-year tenure with the English Institute of Sport to learn the best strategies for providing psychological support for athletes. A recurrent theme, in Hays' opinion, emerged.
What kept coming up, according to her, was the significance of the cultural environment and the creation of environments that support both high performance and good mental health.
While the term "high performance" is now well-known in elite sport, it wasn't given nearly the same praise when Powell, then 31 years old, was named England manager in 1998.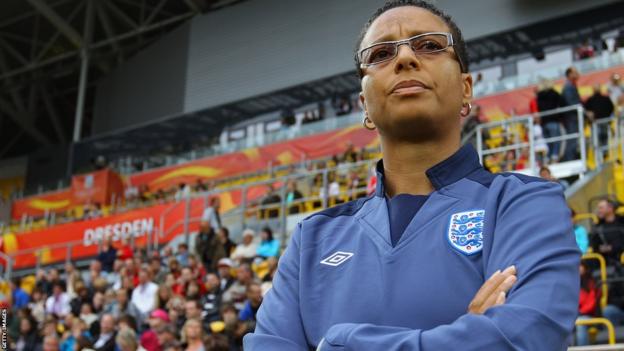 Taking over at a time when the women's team still had to travel to training and matches without a bus, Powell immediately set about instilling a professionalism that would act as a precursor to the 'how to win' culture established 23 years later.
In spite of the fact that the girls were working, Powell says, "it was about being on time, eating the right things, getting the right expertise in, like psychologists and strength and conditioning, and trying to create a professional environment."
These things may seem insignificant, but I believed they would have a significant impact on staff and player attitudes.
Powell became the first coach of any England football team, whether it be a women's or men's team, to offer specialized psychological support by hiring a psychologist to assist the senior side.
Powell was unwavering despite the fact that not everyone appreciated her willingness to accept change; she recalls encountering "a little bit of skepticism and uncertainty" from fellow coaches.
The change was made as part of a comprehensive overhaul of the national organization, which also saw the creation of women's teams for ages 17 and 19. To ensure that players were accustomed to the playing style used by the senior side, each group was given the instruction to play in a 4-3-3 formation. A committed psychologist was also available to support each cohort, with Misia Gervis supporting the first team and Marcia Wilson and Amanda Croston supporting the younger players.
Powell explains: "Why not get going right away? Why hold off until they are seasoned players? They want to follow this path and advance to the senior level of play. These kids need tools so they can help themselves because there will be obstacles along the way.
Since senior players like Lucy Bronze participated in the under-17 set-up during Powell's tenure, members of the current Lionesses squad were exposed to the idea of psychological support at a young age as a result of the initiative. In fact, each of the 11 starters in the Euro 2022 championship game against Germany advanced along Powell's age-group pathway.
Although Powell admits she initially turned to psychologists with a shorter-term goal in mind, it may not be a coincidence that players like Bronze and Leah Williamson have gone on to speak openly about mental health. Williamson spoke movingly about her struggle with endometriosis.
I accepted it because, in Powell's words, "anything that can make even a 1% difference has got to be worth a try."
After England's 2009 European Championship opening match, the theory was put to the test. They lost 2-1 to Italy, with Kelly Smith, their captain, being dismissed after just 28 minutes.
Gervis, who traveled with the team to Finland for the competition last year, recalled her assistance with their recovery in an interview.
Hope said, "Over to you," which basically meant I had to talk to the players and try to sort through the emotional turmoil as we got off the bus after the game, according to Gervis.
"I can still clearly recall that meeting, which was about how we were able to learn from the game without placing blame on one another while also validating the emotions and defining ourselves.
"We discussed various topics and frequently referred to certain values, such as "reclaim your power," "action drives out fear," and "know that you matter. These were things the players had written collectively and they kind of pulled us together.
"And after we had recovered, we managed to leave the group with our fingertips."
Players were asked to contribute to two lists, one titled "Empowering Beliefs" and the other "Limiting Beliefs," in one of Gervis's first workshops with the team to capture their perceptions of each of their opponents. The exercise aided in understanding how the players viewed the opponents they would face in the championship game.
According to Gervis, "I wanted to get a sense of what they believed about themselves, other people, and other teams, as well as how they, in a sense, were empowering other teams."
"Believe me when I say that Germany had a long list of limiting beliefs. However, if you don't acknowledge that, you don't have a place to start when attempting to change how people see themselves.
"We did it for all the nations competing in the Euros because, if we didn't inquire about that, then you inadvertently bring that baggage onto the field rather than sort of going, 'Oh, that's what we think. That won't help us, so what should we do? How can that be changed?
Future England managers would follow the precedent that Gervis' presence in the camp established.
Both Mark Sampson, who guided the Lionesses to third place in the 2015 World Cup, and Phil Neville, who guided the team to a third straight major tournament semifinal in 2019, used psychologists to help players deal with the stress of high-level competition.
It can occasionally build up suddenly and unexpectedly.
When England and Cameroon met in the round of 16, they were the overwhelming favorites because England was ranked 43 places higher than their opponents.
The Lionessess won the match 3-0 in the end. But the evening was much more complicated than the final score would imply.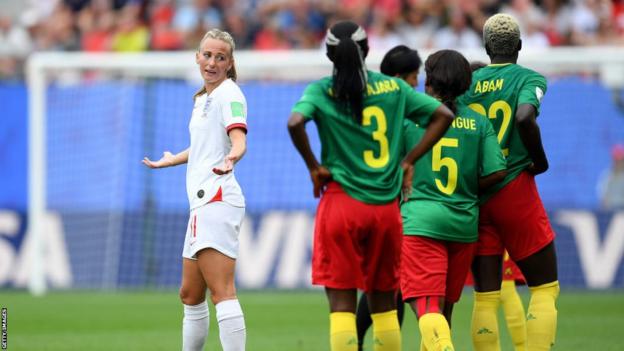 Two close calls by the video assistant referee that went against Cameroon infuriated them: the first reinstated an Ellen White goal and the second disallowed an Ajara Nchout response. Cameroon appeared to be refusing to continue.
When they did, England might have been shaken by their physicality, which was motivated by a sense of injustice and the backing of the local populace.
Then-midfielder Jill Scott said, "Over the years, we've had some fantastic psychologists.
In games like Cameroon, you actually realize that without those meetings, things might have turned out very differently.
"Some people will say that experienced players should always be able to handle situations, but in 140 games for England, I've never been involved in a game like it.
"Those meetings, I'd say, helped us maintain our composure on a hot day."
In the months leading up to Euro 2022, Scott's words appeared prophetic. The day before England's semi-final matchup with Sweden, forward Fran Kirby said, "As soon as we knew the Euros would be in England, it was a case of working out how we could manage the pressure."
The way Kirby and his teammates responded to the expectations shows the effects of the "how to win" culture, which Hays first discussed with Wiegman in early 2021.
The team's "shared purpose" was crucial in ensuring that players who came off the bench felt appreciated; Chloe Kelly, a substitute, scored England's historic goal against Germany.
According to Hays, when you are crystal clear about how you will play and what your role is, it makes things simpler and prevents you from getting caught up in winning or losing. Instead, you focus on what you need to do.
Hays, who has also worked with the Great Britain diving team, believes women's football still has a ways to go before psychological support is on par with other sports, despite the Lionesses' success in using sports psychology to help players on and off the field.
"There is a significant opportunity to increase the effectiveness of sports psychology. There aren't many sports psychologists who regularly work in women's sports, according to her.
The importance of the mind was strongly emphasized at the English Institute of Sport while Hays was there. While she was there, the organization's psychology team expanded from 15 to 30 specialists.
She claims that it is "unheard of" for an Olympic athlete to not be regularly consulting with a sports psychologist to cultivate their competitive mindset.
It remains to be seen if other teams decide to follow Powell's lead from around 20 years ago, but according to her, the need for psychological support is there and just waiting to be met.
According to the former Brighton manager, "there is a recognition that it is needed, not only in terms of performance but also in terms of wellbeing."
"We had a really good psychologist and player welfare program in place during my time at Brighton, so we weren't just talking to the players about the stuff that happened on the field; it was also supporting them with life."
"Players are more likely than ever to discuss their well-being, so it is more and more necessary,"