On a warm morning in Nairobi, some kids are using motors and wires to construct robots, and in a nearby room, another kid is learning how to spell their name on a computer using software.
The Stem Impact Centre's headquarters, a two-story bungalow in the heart of the Kenyan capital, is the epicenter of this tech hub's activity.
The center, which opened in September 2020, supports schools by giving their students a place to study robotics and coding while adopting a DIY approach to learning technology.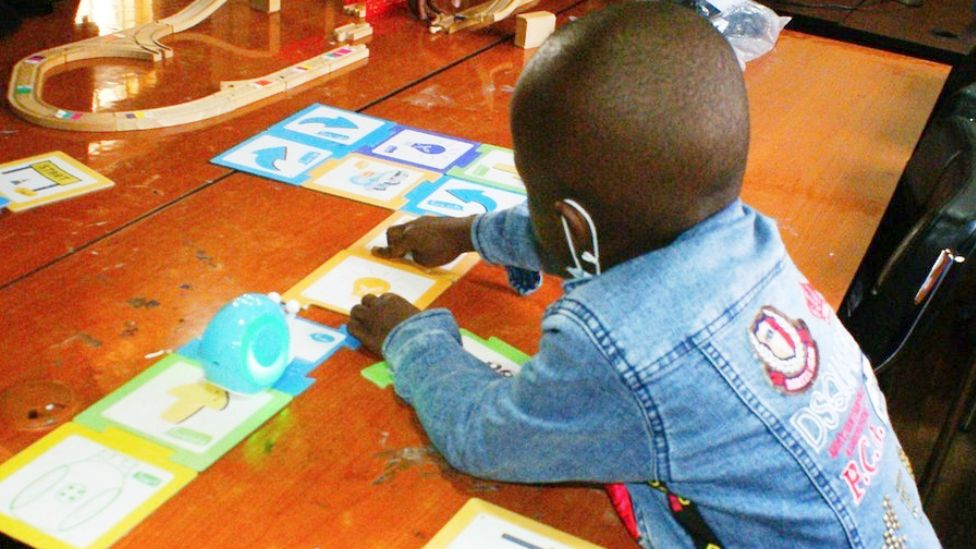 Alex Magu, who founded the center out of a desire to "democratize computer science" in Kenya, is the center's creator.
He thinks that providing every child with access to technological resources is essential for Kenya's development.
And it appears that the Kenyan administration concurs with him.
It declared in April that it would introduce a new technology curriculum for elementary and secondary schools that would instruct students in coding and other technical skills.
Since many international tech giants, including Amazon and Google, have established offices here, Kenya has long been recognized as one of Africa's largest tech hubs and is frequently referred to as the "Silicon Savannah."
Physics is important
In his teen years, Mr. Magu's own interest in computer science was first piqued.
His father promised to buy him something in order to encourage him because he was not doing well in school.
Despite having a strong desire for a mountain bike, Mr. Magu ultimately settled on a hefty Compaq computer from the early 2000s.
It was a revelation to play games on it, and that night he did not sleep at all.
At the age of 13, he made the decision that he wanted to major in computer science.
However, he dropped physics because he did not see how studying it and computer science related in school.
When he learned that he couldn't study computer science at the university without physics, he said, "I almost collapsed as I got the shock of my life."
He learned from this experience how crucial it is to foster a love of math and science in young children.
Ultimately, he majored in political science, though he spent his free time learning about electronics. After graduating, he worked as a project associate for a Danish tech company in Nairobi.
He developed his abilities during this time and participated in a pilot robotics and coding program for schools, which gave him the idea to start his center.
Prioritizing local issues
Foreigners frequently come to mind when discussing the tech scene in Kenya because they run the majority of start-ups and draw the most investment.
His facility serves as an incubator for nearby technology start-ups. These include an artificial intelligence (AI) company that develops translation apps for the deaf in Nairobi, a new organization that burns waste and generates electricity in Kisumu, and a digital marketing firm in Turkana.
Some of them work at Stem, where some of the staff members serve as mentors to the kids.
One of them is John, a research engineer who recently graduated and whose name has been changed due to the delicate nature of some of his work.
He was born in the Kakuma refugee camp in north-western Kenya after his family fled the conflict in South Sudan.
His family left the camp when he was around five years old and relocated to Nakuru, a city in Kenya's Rift Valley.
He managed to persuade his father to give him his laptop while his sister was in school because his father could not afford to send both of them to college at the same time.
In order to access the internet, John purchased a portable dongle and paid 50 Kenyan shillings ($0.40, £3.35) for a 24-hour internet package.
Soon after, he discovered a free computer science course being offered online by the Massachusetts Institute of Technology (MIT) in the US.
He spent his nights downloading the course and his days studying everything from software to data science and computational thinking.
John never interacted with MIT directly, and he did not receive a certificate, but this course piqued his curiosity about science and mathematics. He eventually attended college and pursued a degree in aeronautical engineering.
One of his classmates began working at the Stem Impact Center in early 2021. He asked the friend to take him there because he was interested in the work they were doing. He eventually completed his work placement there before landing a job with one of its start-ups after graduating.
He is enthusiastic about sharing his love of technology with the young students and about his solutions to problems that affect rural areas, like locust infestations.
Inspired by John's and others' successes, Mr. Magu is looking for ways to expand his program and is currently establishing a pilot in Sudan with assistance from a local refugee aid organization.
John's goals for the future are obvious: he wants to attend MIT to study applied mathematics.