At the French fashion house's fall runway show during Paris Fashion Week on Thursday, Givenchy creative director Matthew M. Williams put a strong emphasis on dresses and sent out a line-up of long, slinky gowns that swept the runway.
First, he opened the LVMH-owned (LVMH.PA) label's runway presentation with an assortment of all-black, expertly tailored outerwear, including coats with sleeves that slid below the wrists and hemlines that reached the ankles.
Then, models strutted down the stark, white runway wearing gowns with deep necklines, long slits, and just a few bright colors, like sheer dresses in lime green, bright pink, and lavender.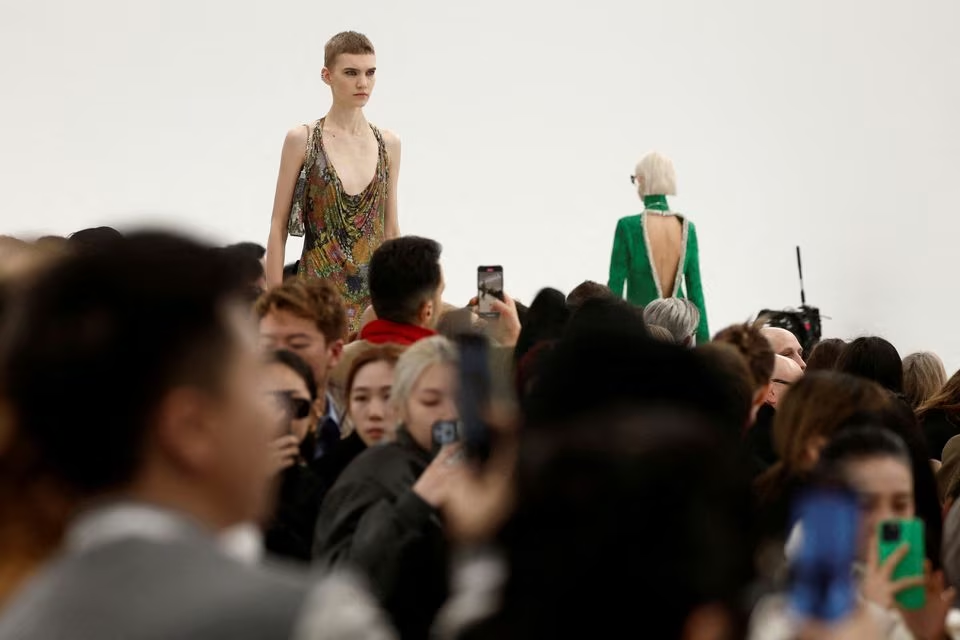 Only sporadic belts lined with metal loops, leg straps with buckles, and a thick, gold handle on a bright green clutch remained of the signature embellishments, chains and extra buckles.
Although there were fewer layered looks than in previous seasons, there were still a few that combined smooth, black leather with brown shearling.
Some of the guests were more flamboyant as the models marched to a solemn electronic beat in a temporary tent at the Ecole Militaire in the heart of Paris.
Singer Aya Nakamura appeared in the brand's signature Shark Lock boots in shiny silver, complete with a matching handbag, while actor Jared Leto wore a shimmering gold top and a large, chunky gold chain around his neck.
The show, which featured well-known brands such as Chanel, Dior, Louis Vuitton, Hermes, and Saint Laurent, took place on the fourth day of Paris Fashion Week, which runs through March 7.