The United States will support Ukraine in its fight against Russia for "as long as it takes," US President Joe Biden said during an unannounced visit to Kyiv.
"We have every confidence in your ability to prevail," he said.
Mr. Biden's first trip to Ukraine as president coincided with the one-year anniversary of Russia's invasion.
He claimed that Russia's President Vladimir Putin was "dead wrong" to believe that Russia could outlast Ukraine and its Western allies.
He met with Ukrainian President Volodymyr Zelensky, and the two went to a memorial for soldiers who died in the nine years since Russia annexed Crimea and its proxy forces took control of parts of the eastern Donbas region.
The presence of Mr. Biden was intended to reaffirm America's "unwavering commitment to Ukraine's democracy, sovereignty, and territorial integrity," according to a White House statement.
He'd taken a 10-hour train ride from Poland to Kyiv in secret, then returned to Poland. A few hours before President Biden's departure, Russia was informed about the trip for "deconfliction purposes," according to a US official.
Following the visit, US Secretary of State Antony Blinken announced a new $450 million (£373 million) package of security assistance for Ukraine, including ammunition for howitzers and the Himars rocket system, Javelin missiles, and air surveillance radars.
Mr Blinken also stated that the US will provide an additional $10 million in emergency assistance to Kyiv in order to maintain Ukraine's energy infrastructure.
A new round of sanctions targeting individuals and companies "trying to evade or backfill Russia's war machine" will be announced later this week.
Mr. Zelensky stated that Ukraine's victory over Russia was contingent on resolve, which he saw in Mr. Biden.
"The fate of the world order, which is based on rules, on humanity… is being decided now and in Ukraine," he said.
He also stated that the two leaders discussed sending additional weapons. Mr Zelensky has repeatedly called for F-16 fighter jets, which the US and other allies have yet to approve.
In response to the trip, Russian Foreign Ministry spokesperson Maria Zakharova stated that those who "sold their souls to the Americans" would fail.
Air raid sirens wailed while President Biden and Mr Zelensky were in St Michael's Cathedral in central Kyiv, adding drama to the most high-profile visit to Ukraine since the war began. In the city, sirens are frequently heard.
Other world leaders have visited Ukraine over the past year, but the US president's trip to Kyiv during a conflict in which American troops are not engaged is a show of solidarity at a time when Russia claims Western support for Ukraine is dwindling.
Ukrainians in Kyiv welcomed the visit.
Roksoliana Gera told the BBC, "I'm so grateful for his support; it means so much to us. I admire his bravery for taking on this challenge and showing the American people his support by coming.
The visit, according to Oleksandra Soloviova, demonstrated to Russia that "the US supports us and will continue to support us, with sanctions and military equipment."
Andriy Yermak, the chief of staff for the Ukrainian president, claimed that the trip had been both historic and strategic. Many problems are being resolved, and those that have stalled will move forward more quickly, he declared.
One of Ukraine's strongest allies is the US, whose state department has so far announced $24.9 billion in military aid.
Mr. Biden stated in January that the US would send 31 battle tanks along with longer-range missiles.
However, there is a widening political gap in the US regarding how much assistance Kyiv should get going forward.
Prior to a three-day trip to Poland, where he will meet with Polish President Andrzej Duda and east European Nato allies, President Biden paid a visit to Kyiv.
In a related development, China's foreign minister stated that Beijing is extremely concerned about the war in Ukraine's escalation and the possibility that it could spiral out of control.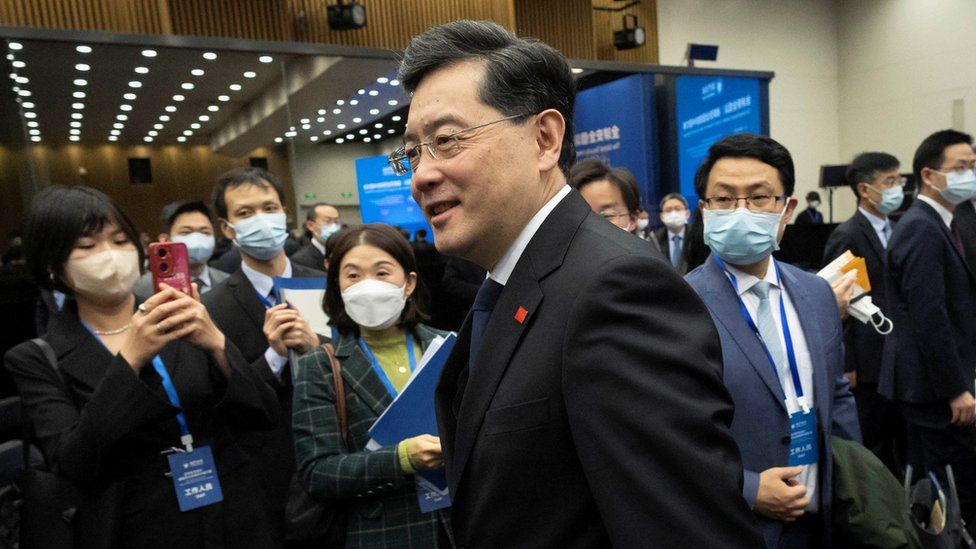 Qin Gang stated at a forum in Beijing, "We will continue to urge peace, promote talks, and provide Chinese wisdom for a political solution to the crisis in Ukraine."
"We will jointly promote communication, negotiate, address the worries of all parties, and work toward shared security with the rest of the world. While we wait, we implore some nations to stop stoking the fire, assigning blame to China, and exaggerating the importance of today's Ukraine and tomorrow's Taiwan."
Chinese officials vehemently refuted an earlier statement by US Secretary of State Antony Blinken that China was considering sending weapons and ammunition to Russia for the war.